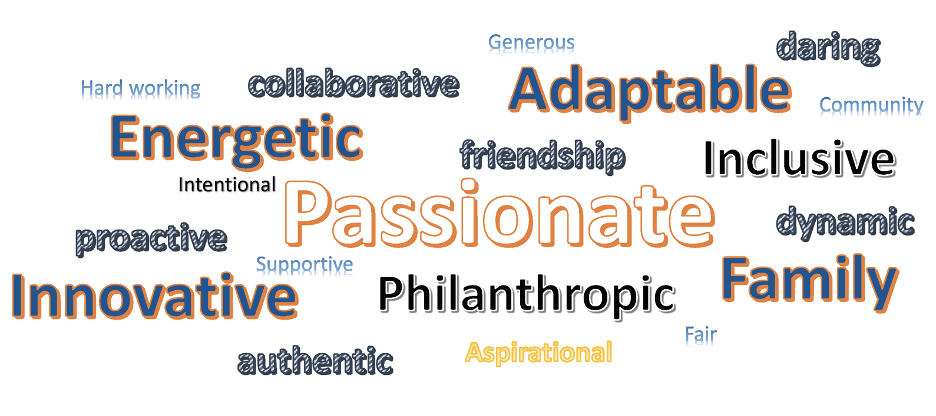 These are the themes that most resonate with MRK Partners' staff. If you're interested in working in a collaborative environment that emphasizes inclusivity, passion, adaptability and innovation, then please reach out to us. We'd love to get to know you! 
Click here
Sydne is the Founder and President of MRK Partners, Inc. Founded in 2015, MRK now has approximately 4,000 units and 21 properties in its portfolio. MRK strives to make a difference in the lives of its residents and the surrounding communities. MRK believes in socially responsible development and an ongoing commitment to community services and growth.
Prior to founding MRK, Sydne acted as the Director of Operations for Standard Property Company, Inc., a full-service, multi-family real estate investment and management firm. She was responsible for the day-to-day operations including multi-family real estate acquisitions, financing, agency relationships, and asset management. Additionally, Sydne spent time working at SJM Partners, Inc., a development firm involved in multiple classes of real estate ranging from apartments, to mobile home parks, to retail, and student housing. With approximately 1M square feet of commercial real estate oversight, she aided all facets of revenue growth and expense control.
Cathy is Chief Operating Officer for MRK Partners. She works closely with Sydne to establish MRK's strategy and to manage the business. Cathy influences MRK's entire business and is directly responsible for overseeing all acquisitions and refinances.
Prior to MRK Partners, Cathy spent 11 years in banking, managing loan and deposit portfolios with a large percentage related to Commercial Real Estate. Cathy received her Bachelors of Arts in Economics from University of California Los Angeles.
Hai Nguyen is responsible for spearheading the identification and acquisition of affordable multifamily assets, sourcing debt and tax credit equity.
Hai has over a decade in the affordable industry and over his career he has been responsible for more than $325 million in multifamily acquisitions. Prior to joining MRK Partners, Hai spent eight years with the Tax Credit Group now known as CBRE Affordable Housing as Team Lead - Senior Financial Analyst and valued over $12 billion of affordable multifamily real estate during his tenure.
Hai earned a Bachelor of Science degree in Business Administration with a focus in Finance and Accounting from Oregon State University.
Bryan Russell is the Asset Manager for MRK Partners. His responsibilities include: overseeing all financial performance and operations of the MRK portfolio, analyzing current financials and business plans for each property, working directly with the property management team to maximize quality of service, monitoring activity reports, operational trends, and compliance-related matters.
Prior to MRK Partners, Bryan spent four years in corporate sales and account management for Hertz Global Holdings where he was responsible for managing a multi-million dollar territory.
Bryan received his Bachelors of Science in Financial Management from Salve Regina University.
Michelle is an Asset Manager for MRK Partners. Her responsibilities include: overseeing operations, financial performance and maintaining business plans for each property in her portfolio. Michelle works directly with the property management team to maximize quality of service, monitoring activity reports, operation trends and compliance related matters.
Michelle also has a background in art so she is able to assist in logo design, finish selections and interior design opportunities within the MRK portfolio as they arise.
Prior to MRK Partners, Michelle lived in San Diego where she received a Bachelors of Arts in Graphic Design at San Diego State University.
Branding & Investor Relations
Tiffany serves as the Branding & Investor Relations Associate where she is responsible for the upkeep and growth of the brand image and increased visibility of the company. Tiffany also interfaces with lender and equity partners in order to manage communication between the executive team and investors.
Prior to MRK Partners, Tiffany spent seven years working in wealth management. Tiffany holds a Bachelor of Science in Business Management from the University of San Francisco and a Master of Business Administration from Pepperdine Graziadio Business School.
In her words: I love that we are a group of hard-working and passionate individuals, from different walks of life with a common goal to change the world
Susan coordinates the office administration and procedures to ensure organizational effectiveness. In addition, she provides administrative support to our senior level directors. Prior to MRK, Susan was a Leisure Group Sales Coordinator for Turkish Airlines and was responsible for day-to-day operations in the group department and overall performance in the leisure market. Her role included to ensure competitiveness within the industry as well as to provide new business opportunities to achieve profitability and revenue goals in the department. She pursued a Bachelor of Science in Criminal Justice, Forensic Science at American Intercontinental University.
Director of Resident Services
Carlee serves as Director of Resident Services. In collaboration with the asset management team and property management staff, she works to find creative ways to meet the needs of more than 11,000 residents.
Carlee has devoted the past 19 years of her career being of service to communities in need through working in the field of social work. Prior to joining MRK, she served as a clinical social worker in a variety of settings. Carlee provided clinical psychiatric treatment to children, adolescents, families, and groups in community mental health clinics, homes and schools. She also designed and implemented programs and activities, identified appropriate community resources, and collaborated with other agencies to best support her clients. Additionally, Carlee contributed to strategic business development through fundraising and program design.
Carlee is a Licensed Clinical Social Worker (LCSW) in the state California. She received her Bachelor of Arts degree from the University of Arizona, with a focus in Family Studies and her Masters degree in Social Work from the University of Southern California, with a concentration in Families and Children.
In her words: I remember my first day at MRK like it was yesterday. I started on a day where there was a quarterly meeting. I recall Sydne starting that meeting by requesting full participation from everyone. She emphasized what a smart and innovative team we had. When Cathy spoke, she opened up her discussion expressing the importance of collaboration and communication. I quickly picked up on the emphasis of inclusiveness and value they had on everyone's voice and ideas being heard. Another staff member led a full blown discussion with many team members sharing their ideas and reflecting on a beautiful learning opportunity. There was laughter and clear authenticity as people took responsibility for their choices, decisions and actions. I was smiling and crying on the inside knowing that I just joined a dynamic, adaptable, supportive and family-oriented team.
Chelsey is the Controller for MRK Partners. She oversees accounting and finance functions and is responsible for the design and implementation of financial operational strategies, policies, and processes.
While working in a combination of Big 4 public accounting and private industry, prior to joining MRK Partners, Chelsey gained diverse experience in real estate, financial services, technology, and consumer products industries.
Chelsey is a licensed CPA and earned her Master's Degree in Accounting from the University of Southern California. She also holds a Bachelor of Science in Business Administration with a minor in Consumer Behavior from USC.
Asset and Operations Specialist
Vlad is an Asset and Operations Specialist who in collaboration with the Construction Director, assists in accounting oversight of both new construction and renovation projects. In addition, he works closely with MRK's Asset Management team on improving portfolio performance and controls.
Prior to MRK, Vlad was the Aviation Cargo Coordinator for an international airline. He was responsible for the day-to-day operations and overall performance of his teams on the West Coast USA and East Canada. His roles included customer relations, training and compliance with regulations from US Customs, TSA, and other local and federal regulatory entities. Vlad has an Accounting degree from LaSalle University and an Aviation Maintenance Technician degree from WLAC. He also has extensive training in compliance, quality assurance, safety and security operations.
In his words: At MRK I am encouraged to visualize where I can go and how I can grow. The continuous training and coaching are helping me to develop new skills and setting up new goals. Our team is assembled from a variety of talents that when integrated, create an amazing place to work.